by Russ Winter
Editor Note: We will revisit this post as information unfolds.
During the last seven days, the U.S. has had a rash of seemingly random and sketchy mass shooting events. Mystery and confusion appear to be a common threads.
Gilroy Garlic Festival, California
July 28, authorities say Santino William Legan, 19, killed three people and injured more than a dozen others at the Gilroy, Calif., annual Garlic Festival. He used "an assault-type rifle legally purchased in Nevada on July 9 and believed to have been bought by Legan," ABC News reports. "Investigators told ABC" that they "were aware of posts Legan had made to Instagram that included white supremacist themes."
Yet, FBI officials on Aug. 1 called media reports characterizing the Gilroy festivalgunman's ideology "wrong" after outlets referenced a social media post and literature associated with white supremacists.
Legan's motive appears to be as big of a mystery as the person himself, according to The Mercury News.
Until the final moments of his life, Santino Legan had not made any discernible impressions on this growing South Bay city. The 19-year-old had little public presence online or in social media. Many of his former classmates had no memory of him. …

"He was just someone that I went to school with and was in my grade," Axel Wong, who attended Monte Vista Christian School with Legan and was one of the few classmates who had any memory of him. "I had talked to him maybe two or three times during my time there."

Amid scant evidence of the shooter's personal relationships, authorities searching his apartment in Nevada noted that they found "a letter from Virginia to Santino." Though the origins and content of the correspondence are not known, this news organization did confirm that Virginia is the name of Legan's maternal grandmother, the daughter of Hollywood actors Brenda Marshall and Richard Houston Gaines, who was later adopted by actor William Holden.
On the day of the shooter, the media ran photos and a story that police had killed the shooter. Five days later, the coroner reported that the Legan committed suicide by shooting himself in the mouth. Assuming that's possible with a WASR-10 rifle, how is it that the coroner is the one to break this news? And what about the second-suspect distraction?
Santino Legan is not found anywhere in the US in a PeopleFinder search.
Black Magik Alert: "3 who survived Gilroy Garlic Festival shooting escaped Las Vegas in 2017"
---
---
Wal-Mart in El Paso, Texas
On Saturday, Aug. 3, authorities say Patrick Crusius, 21, of Allen, Texas, opened fire assault-style rifle, similar to an AK-47, at an El Paso Walmart, killing 20 people and injuring 26.
How does one man kill 20 people and wound another 27 people with a single magazine that only holds 30 rounds? The surveillance photo shows no chest rig, no battle belt and no spare magazines.
Standard grainy jerky video seen in these events. Wal Mart is heavily survelliance covered. Where is the CCTV?
The shooter was "taken into custody without incident" and without any law enforcement officers firing their weapons, according to El Paso Police Department.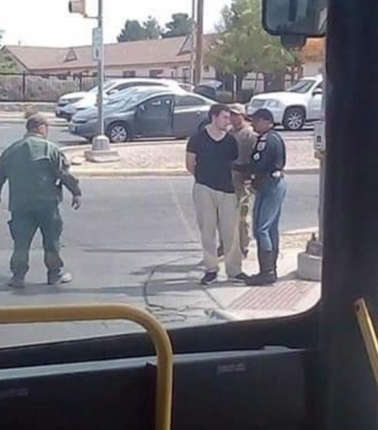 During the shooting, Crusius was wearing cargo pants with puffy pocks. When he arrested, he was wearing khaki slacks. How does that happen?
Crusius "wanted to shoot as many Mexicans as possible," two law enforcement officials told ABC News. During a news conference Saturday night, El Paso's police chief said during a news conference that authorities are examining what he called a "manifesto" that they believe was written by the shooter and shows a possible "nexus" to a hate crime.
Then were are shown the waltzing perp photos, and we're supposed to believe this is the same guy. Really?
Did the artificial intelligence script writers decide that brothers cut from the same intel-clone cloth would have maximum traumatic effect on the population?
A search for "Patrick Crusius," which is an unusual surname, did turn up one result: Patrick N Crusius in Alabama. Patrick N apparently went online to clear his name. News reports about shooter Patrick Crusius state he was born in and lived in Allen, Texas. So other than a few grainy photos at the scene where's the evidence of the Crusius perp even existing?
GoFundMe page for El Paso "victim" was set up Aug. 1, 2019 — three days before Wal-Mart shooting.
Presidential candidate from El Paso, Beto O'Rourke, could barely contain his duping delight when asked about the mass shooting.
Who does this remind us of? … Oh, yes! Robbie Parker, of course.
Ned Pepper's Bar, Dayton, Ohio
On Sunday, Aug. 4, authorities say at least nine people were killed and more than two dozen were wounded by Connor Betts, 24, at Ned Pepper's Bar around 1 a.m. He entered wearing a mask, bulletproof vest and hearing protection and carrying .223-caliber high-capacity rifle with 100-round drum magazines. Betts own sister was one of the casualties.
Standard dark grainy video showing nothing in Dayton.
Betts "was killed by police within 30 seconds of opening fire," CNN reports. "The officers immediately advanced toward the gunfire and within approximately 20 seconds, they engaged the suspect, who was actively firing and attempting to enter a crowded liquor establishment," the police chief said.
The motive is unclear for now, CNN reports, but "authorities found writings linked to the shooter that show he had an interest in killing people," but "a preliminary assessment of the writings did not indicate any racial or political motive." Yet, numerous media sources and "journos" are claiming the the week's mass-shooting trifecta is proof of the threat of "white natonalism" in America.
Meanwhile, photos are emerging of Betts wearing satanic or discordian slogans. The psyops patches are a throwback to tricks used in the Dylan Storm Roof case. Read "Revisiting the Charleston 'Storm Roof' Agenda."
And there were shoes, lots of shoes, in Dayton. This is a classic calling card of staged deceptions.
The Bigger Picture
One does not have to be a "white nationalist" to see that there is a war on everything white. Discordian narratives are built by design so that when you criticize them, they can easily conflate the two. To illustrate, two of the shooters had extremist manifestos on the right, but the Dayton fake shooter's own Twitter profile states: Connor Betts: he/him / anime fan / metalhead / leftist / i'm going to hell and i'm not coming back.
It's Cultural Marxism and trickery. Don't fall for it.